A premium glass writing surface designed for flawless, fun brainstorming, collaborating and more. GLOWI is crafted with one of the thinnest glass materials available in the working surfaces world, eliminating marker shadow for crisp, clear illustrations. The ultra-light weight product makes shipping, receiving and installation a breeze.  Now specifiable in two wall board sizes, GLOWI elevates collaboration tools with the highest quality materials and minimalist design.
GLOWI Lighter Thinner Stronger
The best in ultra-thin glass whiteboards, the new GLOWI Magnetic Whiteboard from Springboard elevates your entire working environment. 
A sleek, smooth dry erase writing surface, with unparalleled durability, and high- tech style.
GLOWI is the finest in writing and dry erase surfaces available.
• Fully framed with .5mm ultra-thin magnetic glass writing surface
• Full steel backing allows for use of magnetic accessories
• 1/2 the weight of a normal 6mm framed glass marker board
• No staining, no ghosting, and incredibly easy to clean
• Use the dry erase markers of your choice.
• Ships in a carton
• Delivered to your door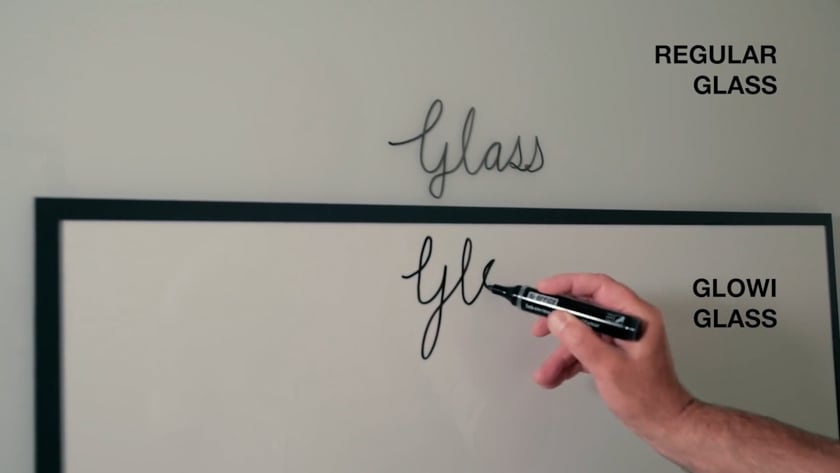 Size Options:
inches
40.94" x 27.56" x .62" (41"W X 28" H)
47.24" x 35.43" x .62" (48"W X 36" H)
* Subject to minimum quantities
w x h x d
mm
1040 x 711 x 16
1200 x 900 x 16
Frame: Painted Aluminum Frame, White or Anthracite
Surface: Magnetic/Writable Glass
Easy to Hang: Hidden S Profile System
Robust structure composed by Polypropylene (PP) Honeycomb that provides efficient and optimum mechanical performance
Elegant and clean aluminium frame
Complete the form below with any questions you may have about our company or products and a Springboard representative will be in touch.